(Opera with an introduction, 9 scenes and an epilogue)
Music:
Libretto: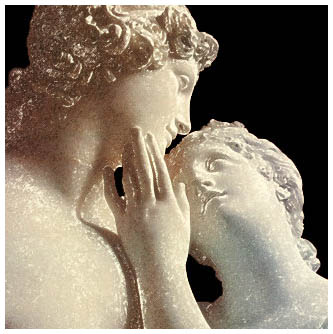 According to the mythology and the ancient times, the myth of Adonis and Aphrodite,
which takes place in Pafos, is based on the historical scripts of Isiodos.
SYNOPSIS
We witness the birth of Aphrodite, as the three Graces welcome her by the sea shore, and escort her on the Olympus Mountain. Smyrna, the daughter of Kinyras and king of Pafos causes Aphrodite's fury, when she denies the power of love. Aphrodite in return, punishes Smyrna by causing her affections and desires towards her own father Kyniras. Smyrna is encouraged by Ippolyte, her wet-nurse, who suggests that she disguises by hiding her face behind her veils, ending up in her father's bed for seven nights. When Kyniras finds out that the person behind the veils was his own daughter, is possessed by madness, and goes after her to kill her with his sword. Smyrna who has regret her decision to deceive her father, ends up in the woods pleading from Zeus for his forgiveness. Zeus is setting her free of all her guilt and transforms her into the tree, now known as Smyrna tree. When the arrow of a hunter strikes accidentally that tree, the bole of the tree opens up, and Adonis the child of Smyrna and Kyniras is appears though it.
Aphrodite is taken by the child's indescribable beauty, and gives custody of the child to Persephone, the goddess of Hades. As the time goes by and Adonis turns into a charming young man, Persephone her self has fallen in love with him and denies his return to Aphrodite. Zeus sets off the battle, by coming in an arrangement that is accepted and pleases both Aphrodite and Persephone; Adonis is to spend six months with Aphrodite and then six months with Persephone. As Adonis is spending time with Aphrodite, he is captured by her beauty and decides to stay with her for ever. Persephone is furious by Adonis decision, and sends out a wild pig that ends up killing him. Aphrodite mourns broken heartedly the unfair loss of Adonis, as Hermes the soul receiver, breaks the news to her.
The story ends with the Adonian Mysteries, where priests, priestesses and a large group of people join the rituals, and revive the mysteries of birth, life, and death of Adonis. These rituals, symbolize spring and winter, where life and birth emerges in our planet. The rituals ending, comes when wooden decoys of Adonis and Aphrodite are cast into the sea, along with the newly grown spikes for benediction.